UPDATED: 24th August 2019 - A solution is hand to replace BC Websites

It has been a while since I have issued an update on the future of BC and ur solution to migrate your website to an alternate platform.
Yes, BC is closing down and as ever in these situations, there is a certain degree of mis-information being put out and the usual array of opportunists trying to take advantage of those who may not fully understand what is going on and what can be done about the situation. We have been working through the planning of what we can do for our clients and and fully confident with the solution and approach we have put together. All is best explained in the following which I have been planning to send out to all our BC site owners but as you have brought the matter up I am now having to jump the gun a bit.
As you are all well aware from previous correspondence and other communications you may have received, Business Catalyst announced 18 months ago the end of life for the product.
As of 26 March 2021 all services will be closed down. This is still 18 months away and we have ample time to address your needs.
Top Left Designs does have an alternative platform to which we can migrate your website retaining all the existing designs, layouts, functionality and data.
The new platformTreepl CMS has been specifically developed to replicate BC functionality and features as well as including many enhancements and additional features.
The back end Admin interface is also designed to reflect the old BC Admin console thus simplifying the transition for existing BC users.
We have already migrated some simple websites as well as having built new sites on the Treepl platform and we are very impressed with the results we have obtained.
When Can You Convert to Treepl
Well, for limited clients you can arrange this immediately, however we are looking to migrate sites over to the Treepl platform from January 2020.
This delay is for very deliberate reasons on our part. Primarily, it is because our current work commitments make a 2020 start more practical affording us the time to better manage the massive process of completing this project.
More importantly though, Treepl are still putting final touches to the platform that will include a couple of final features that are necessary for many of our clients. This will be completed in Version 5 to be released in late September 2019 and a 2020 migration gives us to be sure all new features have been bedded in and suitably proven to be working.
What Will It Cost
This is a fair and reasonable question and we can only say that the cost of the site migration will depend on what features your site currently utilises by way of Web Apps, e-commerce, Blogs, Events Et cetera.
We believe that as a general guide a site conversion will range from $800 for simple sites to approximately $1500 for those sites including more custom features. At the time of converting your site we will however, provide you with a firm price as part of a Migration Plan that we will prepare specifically for your site.
What Will Be the Impact of Migrating Your Site
As far as your public site will be presented to visitors on the web there will be absolutely no or negligible difference.
There are however many benefits that come with the new platform, some of which are included by default and some by way of new features that can be included to improve your website.
In short, the key benefits to you will include:
Superior editing of site content with the nICE editor (V2.0) allowing in-page content editing
improved SEO facilities
easier user interface
more advanced CRM functionality
integration of Google analytics and customised dashboards for visitor performance analysis
broader scope of functionality in Web Apps (now named Custom Modules)
improved workflow options
securing of media files to secure zones
all sites will run under included SSL Certificate
As the platform gets closer to the Version 5 release and with further improvements to the migration tool that enables us to transfer all your data (including e-commerce), we will again be in contact with you with further details.
Please be assured, we have your best interests as our primary objective and we do have a plan in place to migrate your site time that is most appropriate and that suits you and at a price that will be considerably lower than other options available to you.
The migration process will not affect your current site and only after it is fully migrated, tested and approved by you, will we swap over to the new platform – all very quickly and transparently.
If you have any specific questions or concerns, please ring me and I am happy to address these with you.
UPDATED: 28 July 2018 - New CMS Platform Launched
This week we have seen the first of a number of significant announcements relating to moving forward with our new CMS platform to replace Business Catalyst. When we last updated you, we said that there were two likely platforms we would choose from and on Friday we signed up to Treepl CMS from Code Production with the first release (V1) of the new CMS platform a few days before.
Top Left Designs ae now working on our first website project based on the new CMS platform and will use this experience to best judge how we will move forward with the product and also star planning the migration of our current client base from BC to Treepl.
So, what does this mean for everyone? The platform has been developed to replicate the functionality we had in BC but in a far more advanced and efficient manner with a number of added features that we can make use of. The ADMIN panel will be familiar to our users even in Version 1 which does not yet include all the features we have in BC.
At this stage we are still limited to what style of websites we can work with and at present any sites that include or require the following features will have to wait until later versions to be released over the coming months.
eCommerce
Event Bookings
Email Marketing
Social Media Integration
Advanced CRM and forms
Separate environments for the development and live sites
Some of the more significant changes to what people are used to with BC will be:
Email marketing will be delivered through the MailChimp platform with direct integration from the CMS
Email accounts will be set up outside of the CMS and arrangements for email hosting will need to be made independent from the CMS
SSL and DNS management will be setup and run outside of the CMS platform through your usual domain Registrar
As before, we will not be rushing in with migrations or even setting up new projects on the platform unless the platform is truly ready. BC sites still have until 2021 before end of life comes into play so we see no reason to panic or rush in. We will continue full support to BC sites until we have migrated them across.
Our other platform of choice Platform-OS is still a consideration for more complex websites with particular requirements that one or two of our clients may be better suited to. We do not see any move to that platform before 2019.
Full details of the Masterplan as of 28th July are shown below which details what features will be released in the forthcoming versions between now and 2019.
UPDATE: 22nd April 2018 - BC EOL (End of Life ) extended to 3 years
BC EOL extended to 2021
Originally scheduled for June 2019, Adobe extended BC End of Life date to 2020 following extensive pressure from the BC Partner Advisory Board (BCPAB). The extension was welcome, although still insufficient for many BC partners to sustain the transition. The rationale for further extension, and the consequences of failing to so, were strongly argued by the BCPAB ahead of the public announcement on 26th March. I'm pleased to see that the combined efforts and advocacy of partners has achieved the goal to extend the End of Life date to 2021.
In addition, the cut-off date for commissioning new BC sites has also been extended from 18th June to 27th August 2018 which provides partners with the ability to continue with new projects (subject to the nature of the project) to then be converted to the new alternate platform once in place.
An Alternative to BC
The BC Partner have been working through a number of different solutions all of which have varying merit but as we have particular criteria which we saw as essential to selecting any alternative we believe that there are two particular platforms that we will most likely proceed with.
One of our most important criteria was to have an automated migration from BC to whatever platform was selected. At this stage, NO ONE CAN PROVIDE an automated migration solution that is available for general partner use! We know there are a number of non-BC web agencies offering all sorts of solutions stating they can migrate BC websites to their own platform. We can say that they DO NOT have any such migration option outside of scaping website content and re-creating the website manually or with some limited automation and certainly not converting BC modules into an equivalent feature within their own solutions.
The two options we are most likely to proceed with will offer full compatibility and automated migration from BC directly into their platforms. Why do we consider the two options as opposed to just one? Each is working at delivering a migration in slightly different ways and each is pitched at offering a different range of features on top of what we had with BC. One of the platforms is far more extensive in its offering but might not be the most appropriate platform for certain types of client websites thus our thinking of working with both.
Both platforms are utilising proven technologies and underlying Headless CMS platforms with one being Open Source. At this point one of the solutions (and we believe both) will provide an ADMIN interface that resembles the BC ADMIN Console thus doing away with any need for us as an agency and you as a user to learn new technology.Both solutions will offer a full and complete migration from BC into the new platform.
Development of the migration and matching of all BC functionality will however take some time to complete however we have already seen preliminary results of conversions that have been completed on limited websites. Beta testing with some of the larger partners is currently underway.
The new platforms will be available from 1st July with the many of core BC features included and over the following 6 months further BC features will be incorporated. This will allow us to commence BC site migrations later this year. With a 3 year time span on BC we are full confident that we will be able to both migrate existing clients to the new platform but also commence delivery of new website projects on both platforms from the 3rd Qtr of this year.
Below is the Roadmap for one of the 2 platforms we are likely to proceed with.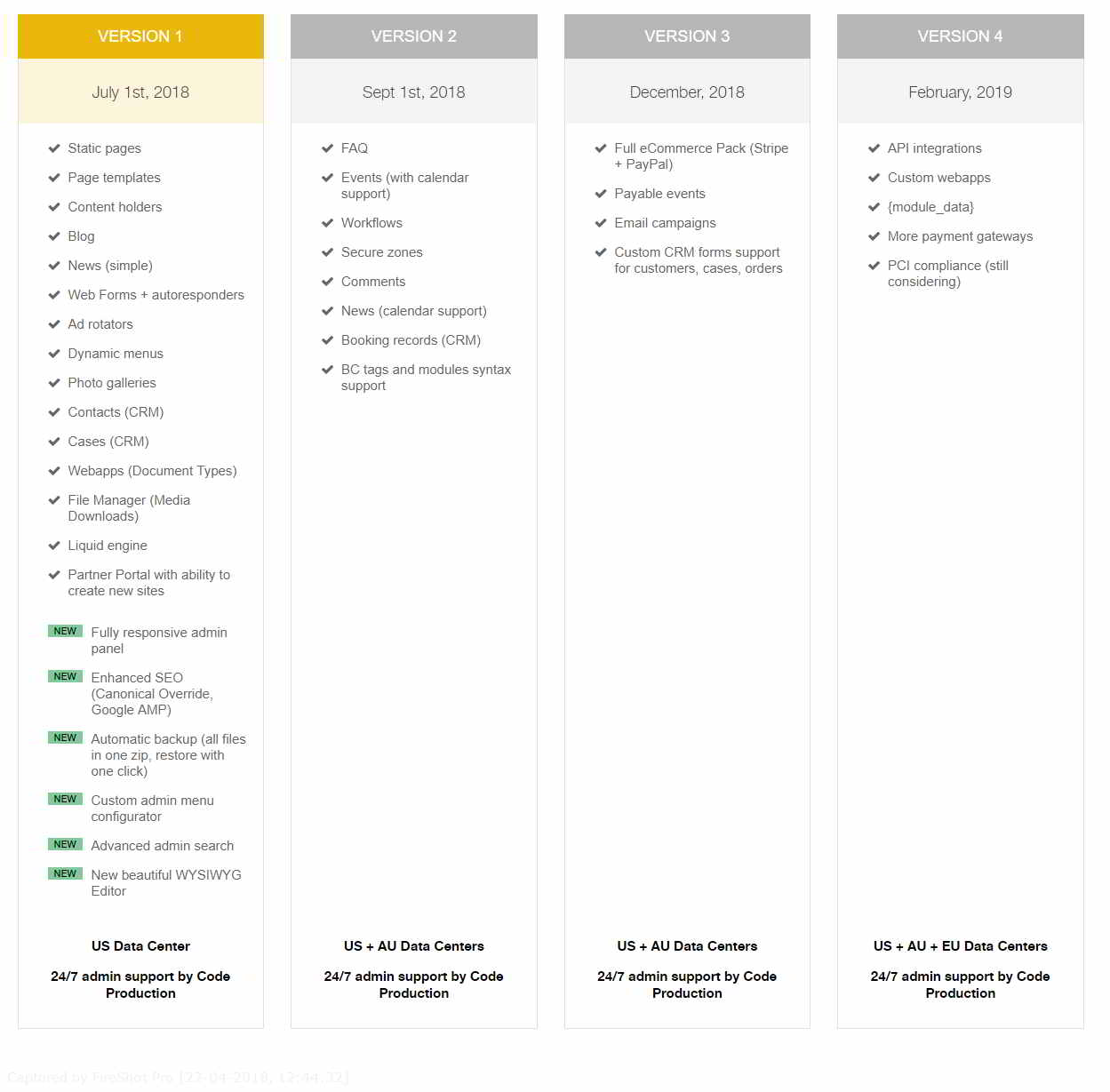 UPDATE: 6th April 2018 - Some Facts You Need to Understand
We wish to make it perfectly clear to our own clients and any other businesses who has a business catalyst website...

There is no reason to panic!
Your website remains operational with full support!
There are certain parties in the industry who are suggesting that you should abandon your BC site and let them migrated to their own platform.
You should firstly talk to your BC Partner as they will be able to provide you with full disclosure on what is happening, the impact you might face with the different options and the implications of these choices. Yur BC Partner can help you make an INFORMED DECISION rather than being coerced into a possibly unsuitable alternative.
The following are the facts regarding Adobe's announcement for end of life of Business Catalyst in 2020.
Key considerations of your BC Partner
Match functionality in alternative platform to BC
To deliver a secure environment from the cloud
Ensuring that websites are delivered from a fully managed and secure environment
Identifying the means for automating the migration of BC site is to any alternate platform
To continue delivering a single integrated solution platform
Facts - Where we are at now
No one knows the complexities and functionality of your website better than your BC Partner
Sites that are not managed by partner can still be supported by any one of the worldwide group of BC partners will be only too happy to assist you in defining your migration options all
At present there is NO platform that fully matches all the functionality delivered through BC
Right now there are NO known and automated migration tools that will take your BC site to another platform delivering the same functionality
Facts - What BC partners are doing right now
Over 800 partners are evaluating a number of alternative platforms sharing their insides analysis and feedback in order to identify a range of options for our clients
The BC Partner group is talking directly to some of these alternate platform vendor is about special rates, plans and migration options
Efforts by some of the very large BC partners who are working together on alternate solutions that are based on Headless CMS systems with a front end ADMIN console that looks just like BC. These solutions will include automated migration. These systems are proven and already limited results are demonstrable. It is expected that this option will be available within the next couple of months.
Partners are taking a long-term strategic view identifying the best options for their clients. Some short-term decisions might be necessary however as a group of over 800 partners we are working together for our clients cooperating and supporting one another.
---
UPDATE: 29th March 2018 - There is life beyond BC
Yesterday we advised you of Adobe's announcement earlier this week regarding the closure of the BC platform from 26th March 2020 - 2 years away and of how we were working towards finding a solution to migrate your website to a new platform.

I just wish to give this update as after speaking with a couple of the clients about their concerns we wished to assure you that there is a path forward.
First of all, let me reassure you all, it is everything normal status for you and your website. All sites will continue to run for the next 2 years just as they have always done so from a client's perspective iit will remain business as usual.
Obviously we need to have a migration plan in place to move all our clients on to a new platform by 26th March 2020 and that is being pursued right now by a couple thousand BC Partner agencies who are all working together furiously to find the best options that ensure our client's are faced with minimal impact which after 4 days I am feeling much more comfortable with now than I was on Monday believe me.
The partner group is comprised of some very big players around the world along with a lot of very smart people who together are closely examining the best strategies and technical solutions. The last thing I will be doing is going into a panic and rushing in unnecessarily to only create a whole set of new problems. We have a strategy in place and with a 2 year grace period we can afford the time to identify the most appropriate alternative to BC that serves both our clients and our own needs.
Already we have identified a number of very interesting systems that could possibly replace Business Catalyst but out of the solutions being put forward there is one platform that is generating very strong interest from the group that holds great promise as it not only delivers all the same functionality and ease of use for the clients and ourselves but includes a number of additional features that will improve the solution we can provide to clients and how their websites will perform. The best news is that this platform is likely to have features that will largely perform the migration of the website from BC onto this alternate platform.
The specific details are not yet available until we complete a more through investigation and determine the exact details of how it will all occur but be assured, you will not be left stranded and your websites will remain fully functional and not be impacted in any negative way for the next 2 years.
If any of you have any concerns please do not hesitate to contact me directly however I would ask that you give us another week or so as by then we anticipate having more specific answers to many questions. I will however be keeping you posted as more information comes to hand.
---
28th March 2018: Original Notice to Clients
On Monday the 26th March, Adobe made a fateful announcement to advise everyone that they will be discontinuing the Business Catalyst platform from the 26th March 2020. This was announced to us as Premium Partners at the same time without any warning and has left us very concerned as it impacts not only our clients but our own business. The full announcement can be read at www.businesscatlyst.com
This decision impacts over 700,000 websites of BC Partners and their clients worldwide. Before you get too anxious let us assure you that your current website is good for another 2 years however we will be looking to migrate you to another platform before that date. Clients with projects underway are our immediate concern and whilst some of these may proceed to completion, others of a more complex nature or at the early stages of build will be discussed with the relevant clients individually.
So for the greater part of our client base, it is business as usual, your website will remain in place providing all the functionality and integrity that you have always enjoyed. Of course if anyone wishes to discuss the future options for their own website we are quite happy to do so.
So what are we doing ourselves? Well right now we are first of all camly sitting back and examining the options as the last thing we will do is rush in making wrong decisions because of panic. There are thousands of BC Partners who are right now exploring the various options available to us and looking at which offer the best migration paths for the different types of sites we have built on the BC Platform. For us this is over 10 years investment and we are being very careful to be sure we make the best decision.
At the outset we decided on BC as our platform of choice for a number of reasons and sadly, we still believe BC to be the best solution but that is not to be as we are now no longer able to launch any new sites from 18th June 2018. We are now exploring various other platforms that will be able to provide the smoothest transition possible and hopefully match functionality we found in BC. This is proving to not be such an easy task.
With the support and assistance of other BC Partners we believe we will have a couple of different options to take to clients as the new platform of choice still ensuring that clients have
a platform that they can use to manage their content
that is delivered from a fully secured environment
that includes the core features we have incorporated into our integrated online solutions of the past
that incurs minimal administrative overhead on both our part and our clients
The good news is that whatever we choose, it will look and feel better than what you have had in the past. I have been greatly encouraged by some of the platforms already viewed but of course a closer examination of the leading contenders will still be required.
So by way of a wrap up
Your current website is safe and will continue to operate fully until 26th March 2020
Any new projects about to be concluded will in most cases continue on to the BC platform however respective clients will be contacted to discuss this further
New projects that will not be completed before 18th June 2018 will be put on hold while we explore an alternate platform and we will then discuss this with the respective clients in the week following Easter
We are currently exploring the options for a replacement to BC to allow us to resume delivering integrated online solution for our clients with a decision to be made in the next 7 to 14 days
If anyone has any questions or concerns they wish to raise then please do not wait for a call from us but instead ring me personally on 0419 706 325.