The challenges in selecting the right CRM platform for SME's are unique and complex. The right solution for your business, chosen correctly, can have an immednse impact on how to manage yrou customers, create new sales opportunities and manage the growing range of information yoru need to access in order to do so..
The Information Management System that can improve the way you manage your business!
In this golden age of information, where the volume of data essential for any business keeps growing, it can easily become unmanageable. Information is essential for project management, for accurate pricing, invoicing and customer service - and it can be extremely useful when dealing with potential customers and clients, especially making follow-up calls. Finding and collating all that information can be a frustrating and time-wasting exercise.

According to a recent survey by management consulting company, The Alternative Board, 72% of small business owners feel overwhelmed, with 39% reporting that finding paperwork is their biggest time waster -Trying to compile all the information they need to bill or follow up a client, from a whole lot of different sources.
A recent study by The Access Group of 2,000 businesses in the UK found 48% of employees waste three hours or more a day on average, working with inefficient systems. Over a year, this costs the average business more than they would pay a full time employee earning the average UK salary.
Relying on incomplete information results in poor project management, poor customer service, incorrect pricing and invoicing, missed opportunities, cash-flow problems, and even being open to fraud. It leaves business owners feeling stressed and frustrated with their workload, unable to enjoy their lives.
As independent consultants, we identify the most appropriate solution for your business recognising that not all CRM platforms are the same, each offering differing advantages to business depending on the nature of and how your business operates. Whilst we specialise in Zoho Apps, we also work with Freshworks and Agile CRM - each with their own merits subject to your requirements.
Zoho is fast becoming the most popular information management system on the planet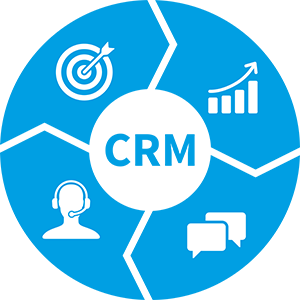 Imagine having all the relevant information at your fingertips – all key communications associated with a customer, supplier or other stakeholder in one place, together with the relationship of that communication – Making it easy to get the full story on anything.

What if you didn't have to try to read and answer hundreds of emails every day– focusing only on what you need to – simply by segregating this information into different channels and funneling it to the person who is best placed to deal with it.

What if you could replace a whole lot of different programs with just one - Integrations can be one of the biggest efficiency killers in your office, when software from different vendors fails to connect properly and relevant data doesn't move across. Zoho gives you complete, tight and uninterrupted integration between modules – ensuring you can be confident you have all the relevant information at all times.

What about being able to easily access many KPI's (Key Performance Indicators) for your business and be able to hold key staff accountable for their performance, with them reporting through the same system?

How would you like to keep all your existing office processes and technologies – with Zoho working like an information hub, capable of feeding data to Google Apps, Microsoft Outlook, Xero, Office 365, whether you are on desktop, notebook or phones - one solution with a single source for all your data accessible from anywhere you happen to be.

What if it were all at a price you could afford? Systems incorporating all these features are notoriously expensive – Zoho offers the same functionality at a fraction of the price.

Zoho is much more than just a CRM - it can be almost everything your business needs:
To manage information and communications for your customer relationships.
To manage how information is stored, shared and communicated.
To track who has accessed it and what they did with it.
Zoho will allow you to manage your billing and track you costs or alternatively, choose what to share with the systems you already have in place to do those tasks. View some of the Zoho Apps

Zoho runs in the cloud, so it reduces many of your IT overheads and ensures your data is safely protected and regularly backed up. Most business owners now realise that data being safer in their office is a myth - with their business always being just one disaster away from bankruptcy!

With Zoho, your valuable data is stored in secure data centres, with redundancy on every level and it is backed up regularly. Sensitive, confidential data is protected from hacking, with many more layers of security than the average office server.
The all new Freshdesk - new brand new offerings
On June 6, 2017 Freshdesk announced its rebranding to Freshworks. Freshworks is a new umbrella brand for the suite of applications that Freshdesk built and acquired since its founding in 2010.
Today, the Freshworks suite of products includes:
Agile CRM offers smarter workflows for process driven selling
Sales features for smarter selling. Marketing features for complete customer engagement. Looking for more CRM features at a lower price? With Agile CRM, you'll never miss a lead. From web popups to user tracking, email marketing automation to sales gamification, say hello to the all-on-one CRM with everything your SMB needs to grow.
gile CRM is a customer relationship management platform provided by Agile CRM, a company founded in 2012 and based in Hyderabad, Andhra Pradesh, India. The company focuses on providing a complete CRM platform for small businesses, which can help small business users to manage and automate their sales, marketing, and service in one unified CRM dashboard. There are various integrations available that make this platform compatible with other popular platforms, such as Zendesk, LinkedIn, Twitter, Stripe, and many more.

All-In-One CRM Platform For Any Small Business

Agile CRM is a CRM platform that is designed for small businesses, and it integrates three important aspects of your business, namely sales, marketing, and service, into one dashboard. While the other CRM platforms might only focus on the management of your sales and customer contact information, this platform does even more than that. With this platform, users can easily manage and automate various aspects of their business, and at the same time, improve their customer relationship. All data is saved in one convenient dashboard, with a strong encryption system, and it enables each user in your team to access the data and collaborate on various tasks together. The platform is offered at an affordable price, with cloud-based system that you can access from desktop and mobile devices.
Project Management
With this platform, you can easily manage your projects and see the progress of each project, as well as the people who are responsible for it. There is a drag-and-drop feature that allows you to create tasks more easily, as well as assign it to certain team members.
Marketing Automation And Tracking

Agile CRM also provides various marketing features that help you to automate your marketing tasks easily. The marketing automation feature allows you to create a plan for your product marketing, as well as create a good workflow to achieve your goals. In this way, there is no confusing marketing strategy to take, since you've already drawn it on your plan and create a goal for it. It also has a tracking feature that allows you to track your marketing progress, so that you can improve on your current marketing strategy to achieve a better result for your business.
Conclusion

Agile CRM provides a complete CRM platform that any small business can use to improve their results. It helps you to manage and automate your sales, marketing, and service, and make each aspect of your business working for you properly. With a good management of those aspects, you can easily keep your business running in the right direction, and perform improvements for each aspect of your business whenever necessary. There is no need for you to manage different things separately, since all is available in one simple dashboard that is always accessible anytime you need it.